As the winters in India get chillier than ever, spring sets foot and marks the end of a crop cycle. The harvest of crops and the hard work put in by the farmers, all culminate into a big celebration while worshipping the Earth for her fertility and abundance. Be it Makara Sankranthi or Pongal in the South, Lohri in Punjab (and some of the North), Bihu in Assam, India celebrates the Harvest festival with great pomp and show!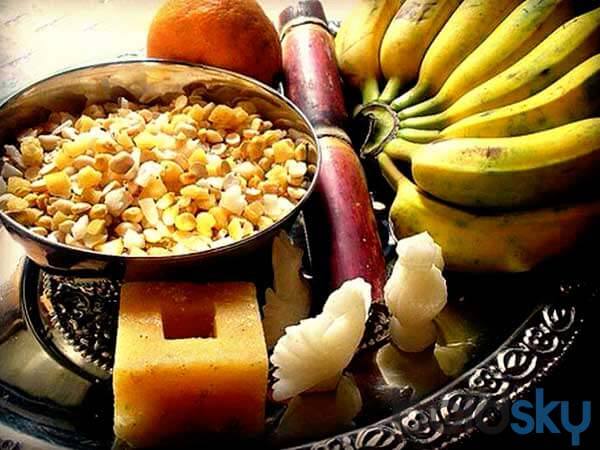 Traditionally, Pongal and Sankranthi is a social affair. A sweet dish named Pongal prepared from the fresh harvest- rice, sugar, coconut, etc is prepared in big pots for a neighbourhood and savoured by everyone. Yellu-bella (a mixture of til seeds, jaggery, coconut, groundnuts and more) along with sakkare acchu (moulded sugar candies) and sugarcane, are exchanged among households, also to celebrate the fruits of the season's harvest. Also associated with this celebration are kites, colourful rangolis.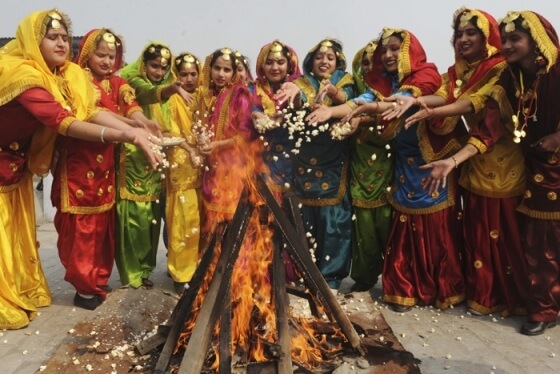 Lohri is also a celebration of the harvestcrops but is centred around a sacrificial fire. Rewri, peanuts, corn, etc are offered to the fire, as people dance to the rhythm of the dhol, and sing some fun songs with short verses, which usually end with a chorus of "Ho!"
What you can do for Lohri this year in Bengaluru:
While these Lohri traditions are etched into the cultural psyche of the folk in rural North India, the cities have moved on to shinier, slightly more urbane ways to celebrate Lohri. No, we do not have fields of harvest crops in the city, or large open spaces for the family/neighbourhood to light bonfires and dance around (in most cases), but what we do have are some glamorous
nightclubs throwing Lohri parties, with the dhol and energy packed Punjabi mixes to keep us dancing into the night, and celebrating the harvest season- or a night off from the long, hard hours at our desktops! Partying, that comes with modernisation, while still celebrating a festival that takes us back to our cultural roots, with a dash of nostalgia and homesickness, is the right way to celebrate Lohri in Bengaluru. So we present to you, the amazing line-up of Lohri parties that will almost take you home for a night:

1) Jashn-E-Lohri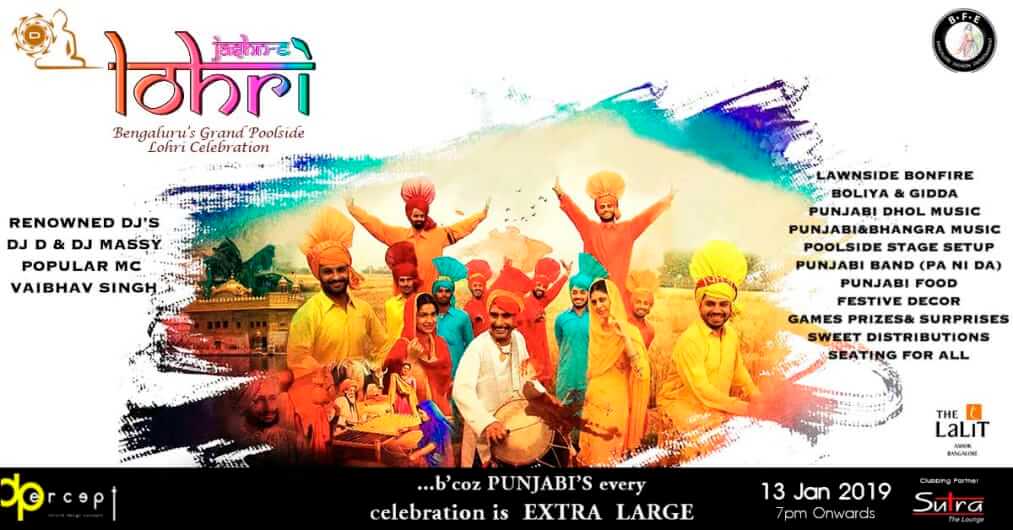 Where: The Lalit Ashok, Bengaluru
When: 13th January, Sunday
Why: Lawnside bonfire, poolside stage set-up, Dhol and Punjabi music, bhangra, Punjabi food, games, prizes and more!
The Lalit Ashok never falls short of the class in their parties. A bonfire,pool party, Punjabi music, the dhol, games and contests and what not- only of the grandest and biggest of Lohri parties are housed here, and you are sure to have a blast!
Click here for passes and more details!

2) Lohri Celebration 2019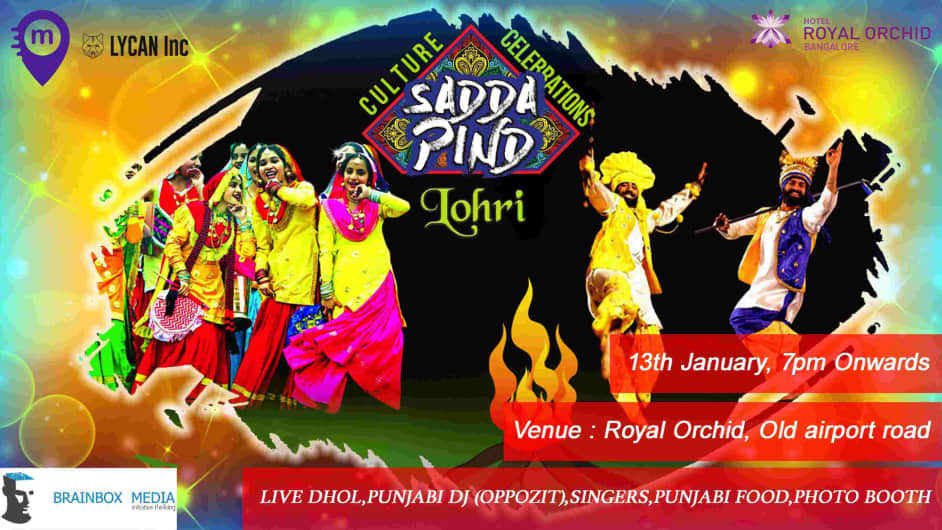 Where: The Royal Orchid
When: 13th January, Sunday
Why: Live dhol, Punjabi DJ, Punjabi food, photobooth, 5-star venue
All you need sometimes is a Punjabi night to dance your heart off, and especially so, on Lohri. Complete with DJ Oppozit, straight out of the pind and Punjabi food, all at a posh 5-star venue, Lohri is going to be lit!
Click here for passes and more details!

3) Whitefield ki Lohri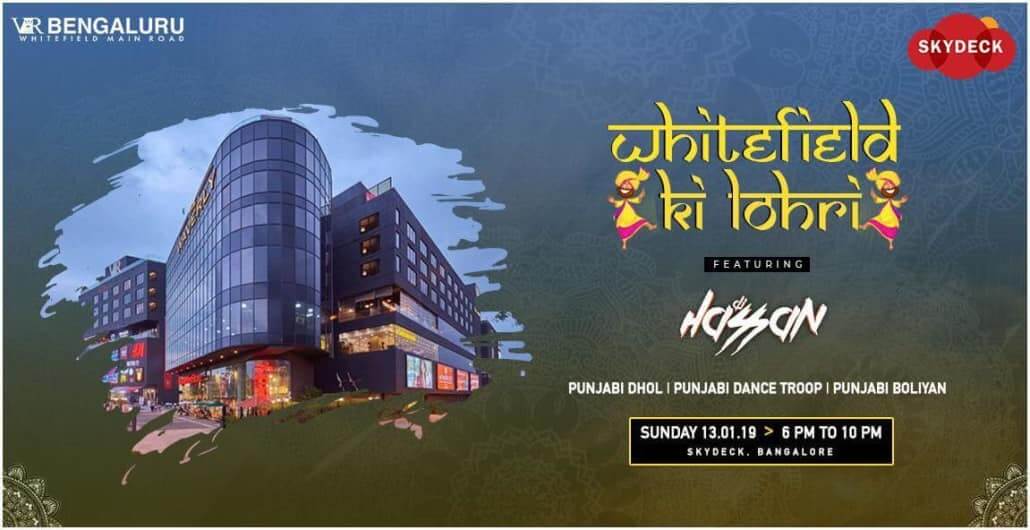 Where: Skydeck, VR Bengaluru
When: 13th January, Sunday
Why: Stimulated bonfire, LED dhol, Punjabi dance troop, exhaustive menu with authentic Punjabi cuisine, classy 5-star venue, kid-friendly, DJ night and more!
If you're on the other side of town, feeling more alienated than ever, Skydeck's Lohri is here to save the day. Perhaps the biggest Lohri celebration in Bengaluru, this party has its own Punjabi dance troop, LED dhol, themed decor, bonfire and what not. With a variety of Punjabi dishes and lots of Punjabi dance numbers all night long, you will feel right at home!
Click here for passes and more details!

4) Lohri Jashn by Banjara and Gypsy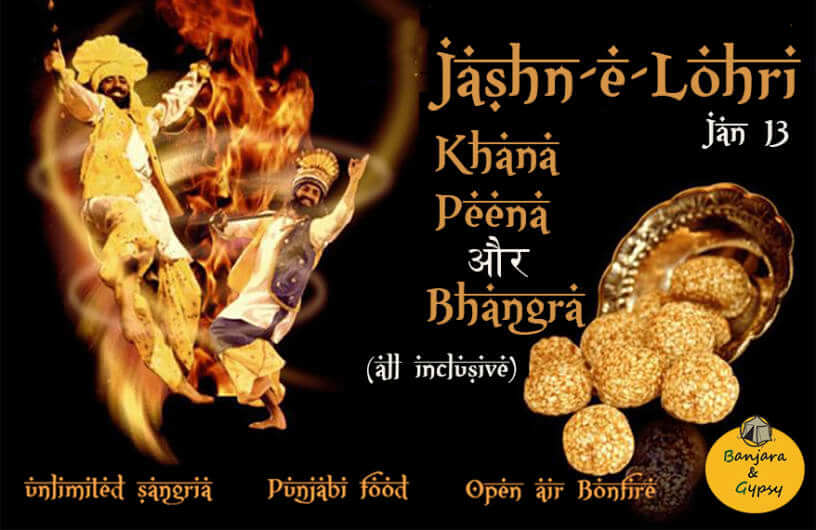 Where: Nandi Valley Winery
When: 13th January, Sunday
Why: Outdoor venue, bonfire, bhangra & gidda, Punjabi food, boliyan, Punjabi buffet, sangria, Lohri sweets and more!
A winery is quite possibly the best setup for a fun Lohri. Celebrate Lohri like a true Punjabi, with a lavish Punjabi buffet spread,boliyan, dancing to the dhol and wash it down with some delicious red wine sangria!
Click here for passes and more details!
5) Saturday Lohri Party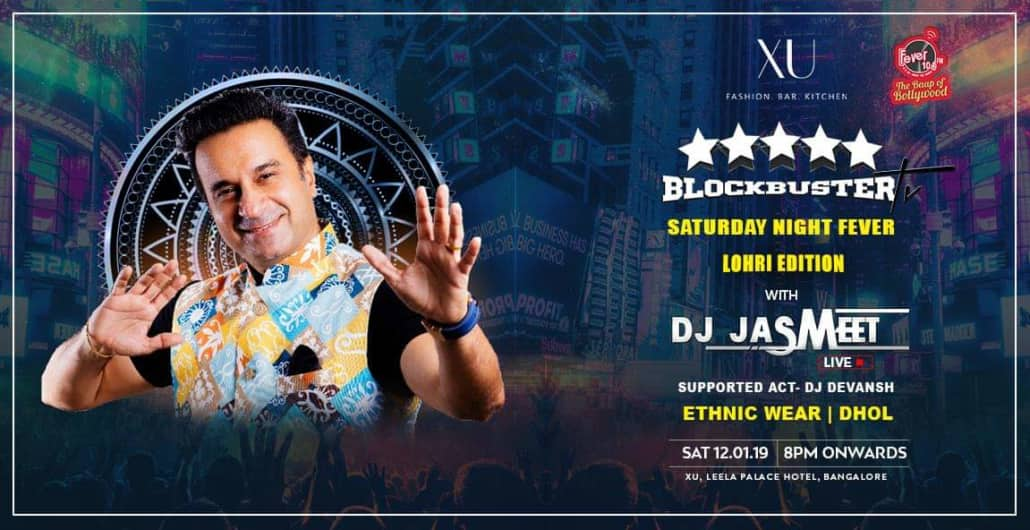 Where: XU, Leela Palace
When: 12th January, Saturday
Why: DJ night, dhol, 5-star venue, free entry
Here's a pre-party to get the Lohri weekend started the right way. A classic Punjabi night, with the DJ spinning all the right Punjabi mixes, and the dhol resounding all night long at a gorgeous venue: sounds like a great start to the Harvest festival? We think so!
Click here for passes and more details!
Oh, and don't forget to bring out the beautiful ethnic wear this season. Cheers to a wholesome Lohri/Sankranti!