Going all out on New Year's Eve is all fun and games until you realize you're too tired and (probably) too drunk to find your way back home. Don't even get me started on the horror story that is the hangover that follows a grand night's partying. But this shouldn't stand in the way of your NYE plans, so we've got the best deals for you: Room Packages!

With these amazing deals, you can stay out and party until the last call and comfortably head to bed right after. Don't forget the topnotch services that premium 5-stars in Bangalore provide. These deals also come with a scrumptious breakfast for the next day, so you don't have to worry about hunger pangs either.
The room package is pretty much a mini get-away for the NYE, within the city and as luxurious as it gets. Take a look at the packages we have lined up for you.
1) Under the Stars- The Big Bang 2019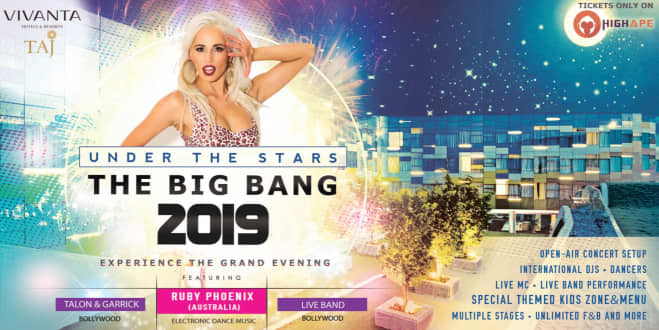 Where: Vivanta by Taj, Whitefield
Price range: 19,990 INR for a couple (discount coupons available)
This mega New Year party has it all: a live band, international DJs, fireworks, laser show, entertainment for kids and more. You do not want to miss out an event as big as this, but it happens to be on the other side of town for most of us. Worry not, with this fabulous bed and breakfast package, we can beat any and all FOMO!
Click here for passes and more details!

2) Houseful 2019 – New Year Party at Lalit Ashok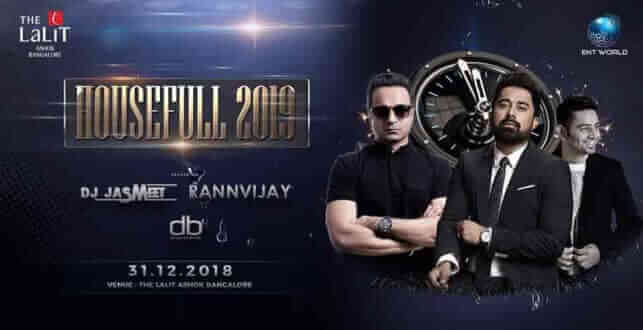 Where: The Lalit Ashok, Sheshadripuram
Price: 12,999 INR for a couple
The Lalit Ashok not only hosts the most high profile parties in the city but is also sought after hotel by those with a finer taste. Spend a magical evening with an open-air concert at the lawns, hosted by VJ Rannvijay. Apart from the unlimited food and drinks, an awesome lineup of live entertainment acts, you've also got a topnotch bed and breakfast!
Click here for passes and more details!

3) Red Carpet New Year 2019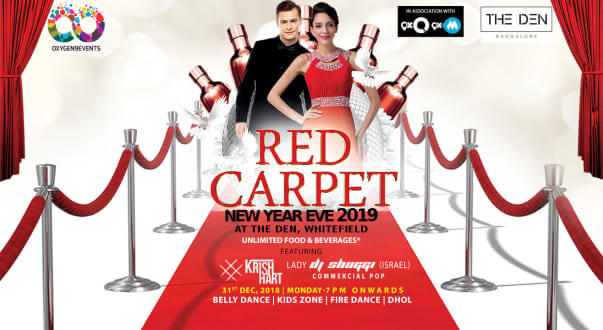 Where: The Den, Whitefield
Price: 12,999 INR for a couple
The Den is a premium 5-star venue, with Israeli hospitality. The NYE event is a full-blown gala with a red carpet welcome, a DJ night with the internationally celebrated artist DJ Shugi Born, belly dancers, a fire show, an unlimited buffet with fine drinks and more. Stay over for the night and get pampered, Israeli style!
Click here for passes and more details!

4) The Grand Mystery Carnival 2019- Party of the Decade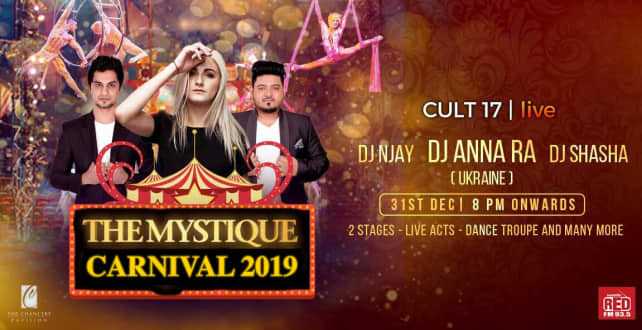 Where: The Chancery Pavillion, Residency Road
Price: 14,999 INR to 99,999 INR (couple- groups of 10)
Carnival style NYE party with jugglers is where you have to let loose and let go of all inhibitions. Apart from the world-class dancers and jugglers performing by the pool, the exclusive ladies bar, the delicious food, and drinks to indulge in, also get the 5-star treatment with Chancery Pavillion's room packages. Tag all your friends along, and choose from the packages meant for 2, 6 or 10 people.
Click here for passes and more details!

5) Las Vegas 2019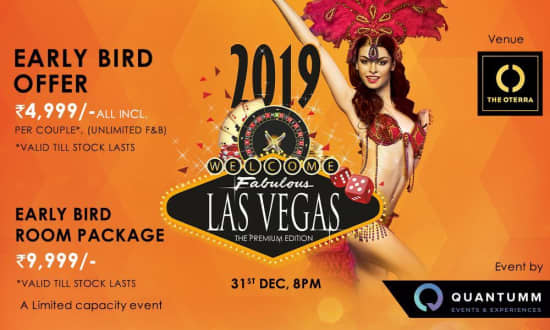 Where: Otter Hotel, Electronic City
Price: 10,999 INR for a couple
Visit a mini Las Vegas this NYE- what with a celebrity choreographed fashion show, jugglers, belly dancers, scintillating dancefloors, a casino set-up and all! Top off the Vegas experience by opting for the fabulous room packages.
Click here for passes and more details!

6) High Life 3.0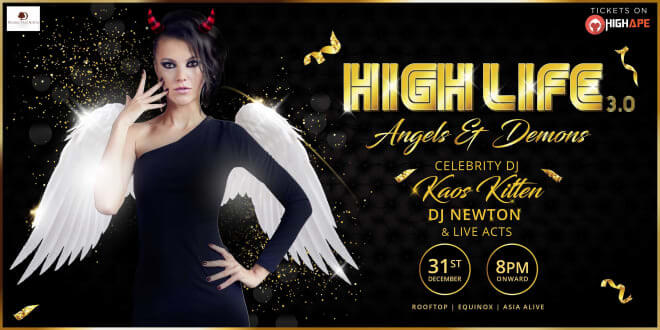 Where: DoubleTree Suites by Hilton, Sarjapur Road
Price: 13439 INR- 16797 INR (discount coupons available)
Being biggest themed NYE party at a premium 5-star venue, this event requires you to pick a side and dress up as either an angel or a demon, and party with your side at the poolside rooftop or the ground floor, each decorated like paradise or the underworld. With a promise of lots of fun, non-stop dancing and quality liquor, this event is sure to get you partying like there's no tomorrow. Hurry up and book the top notch room packages for 2 or 3 people, as per your requirements, before they're all sold out!
Click here for passes and more details!

7) Atmosphere 2019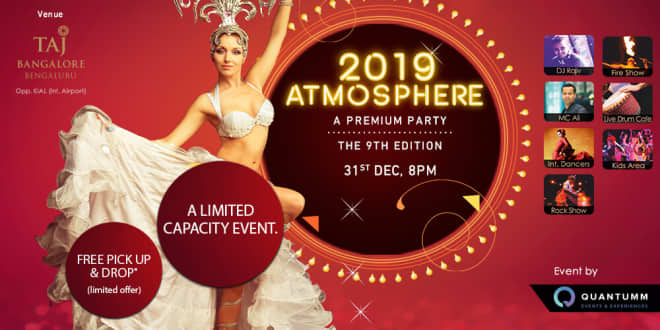 Where: Taj Bangalore, near Kempegowda International Airport
Price: 11,999 INR for a couple
This grand NYE party can double up as a mini getaway for the occasion. At a remote, serene location, far away from the humdrum of the city's traffic, the Taj is a beautiful 5-star property with an open-air Bollywood night, lavish buffet spread with unlimited F&B, rock show, separate kids zone and more. Opt for a room package and take a tiny vacation among luxuries.
Click here for passes and more details!

8) Paul Gets Groovy 3.0



Where: The Paul Bangalore, Domlur
Price range: 3499 INR to 22999 INR
With two separate party locations: Murphy's Brewhouse and Sidewalk Cafe and Bar, rolled into one premium property, The Paul is hosting a magnificent spectacle this NYE. Two DJ nights, a lively host, unlimited F&B and more- top it off by staying over. From a special kids room to a club suite for 2 couples, there are several room package options to choose from.
Click here for passes and more details!

9) Mumbai Masala 2019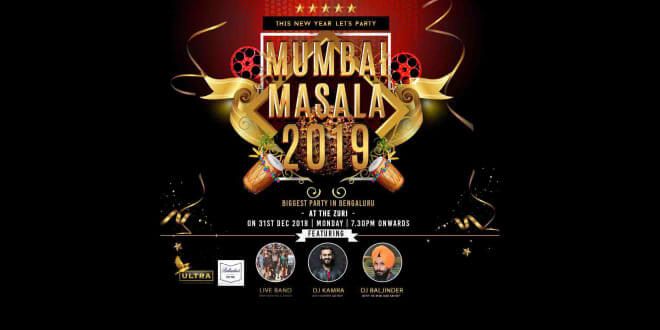 Where: The Zuri, Whitefield
Price Range: 10,199 INR to 11,999 INR
A Bollywood night, a Punjabi night and a live band performance, each at three beautiful locations- the NYE at the gorgeous 5-star, Zuri is a triple treat. A mindblowing lineup of live entertainment acts, a large buffet spread and fine drinks, finish it all up by staying over at the cozy hotel room.
Click here for passes and more details!

Here's to partying wisely this New Year's!