No matter how busy, we will always find time to celebrate love. This Valentine's Day on the coming Wednesday in Bangalore is going to be all about making it special for your loved one in the most insanely beautiful way ever. If you are looking for something more than just a romantic dinner with your partner, then you are at the right place.
In this article you will find a number of options which are quite offbeat and quirky, letting you have experiences which one doesn't get a chance to explore often. Explore the multiple shades of red this Valentine's Day with your partner and sweep her/him right of their feet by planning a romantic getaway which one will remember for a long time. With such amazing options on the table, there is no need to break head for finding the perfect way of making Valentine's Day memorable.
Here is a list of some of the most delightful Valentine's Day events and outings happening all across Bangalore –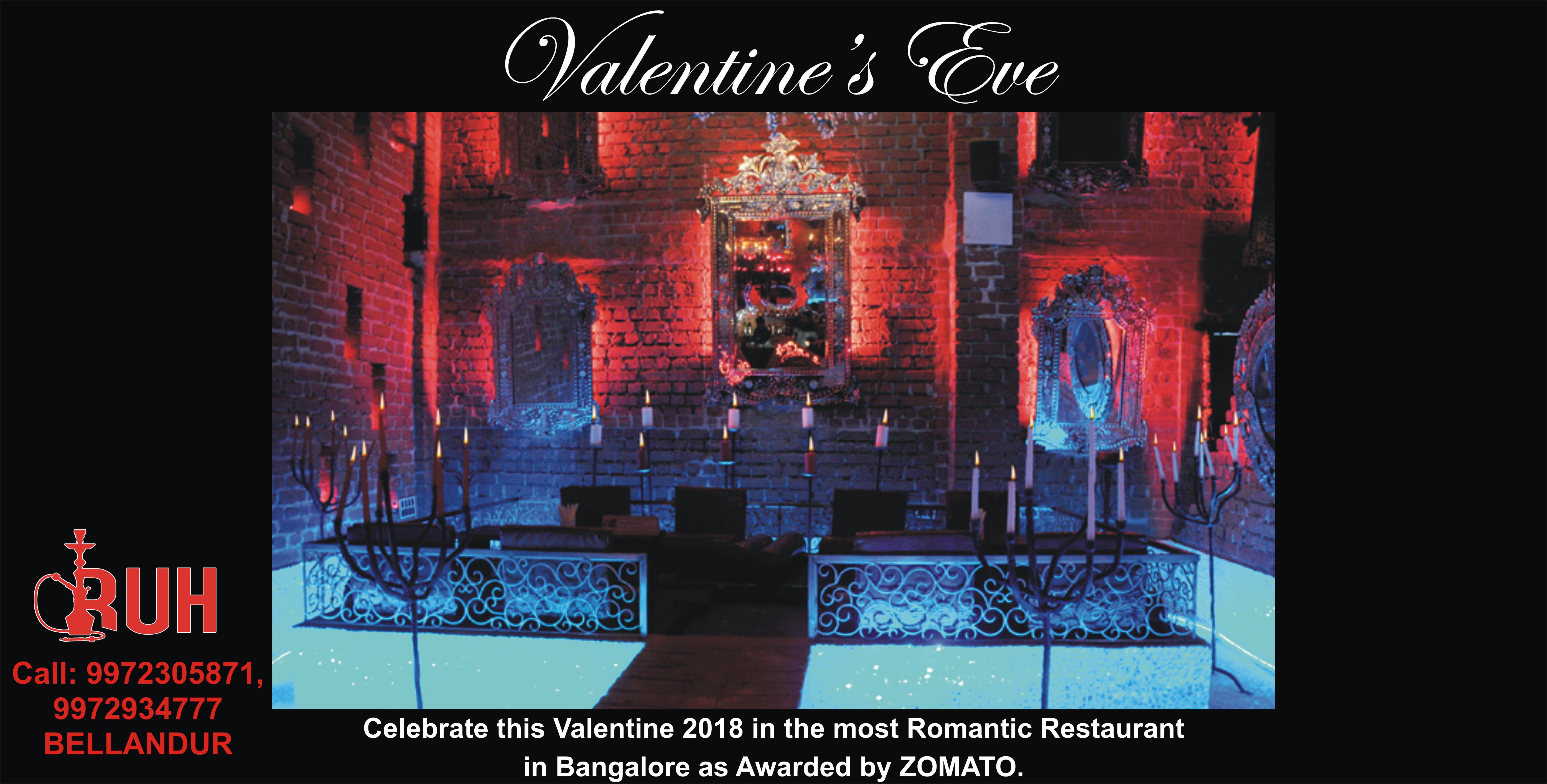 #1) Ruh Valentine's Eve – Ruh has arguably been one of Bangalore's favorite destinations for celebrating Valentine's Day, year after year. And this is because it can get you 100 Candles Around Table, 100 Red heart shape Balloons, Rose Petal Decoration, Rose Petal Shower, Rose Bouquet, Love Note, Photo Shoot, Love Coupons, Song Request, Heart Shape Chocolate Box, Half Kg Heart Shape Cake, Wine Bottle, Unlimited Buffet, Dedicated Butler Service and what not.
For bookings and more details Click Here
---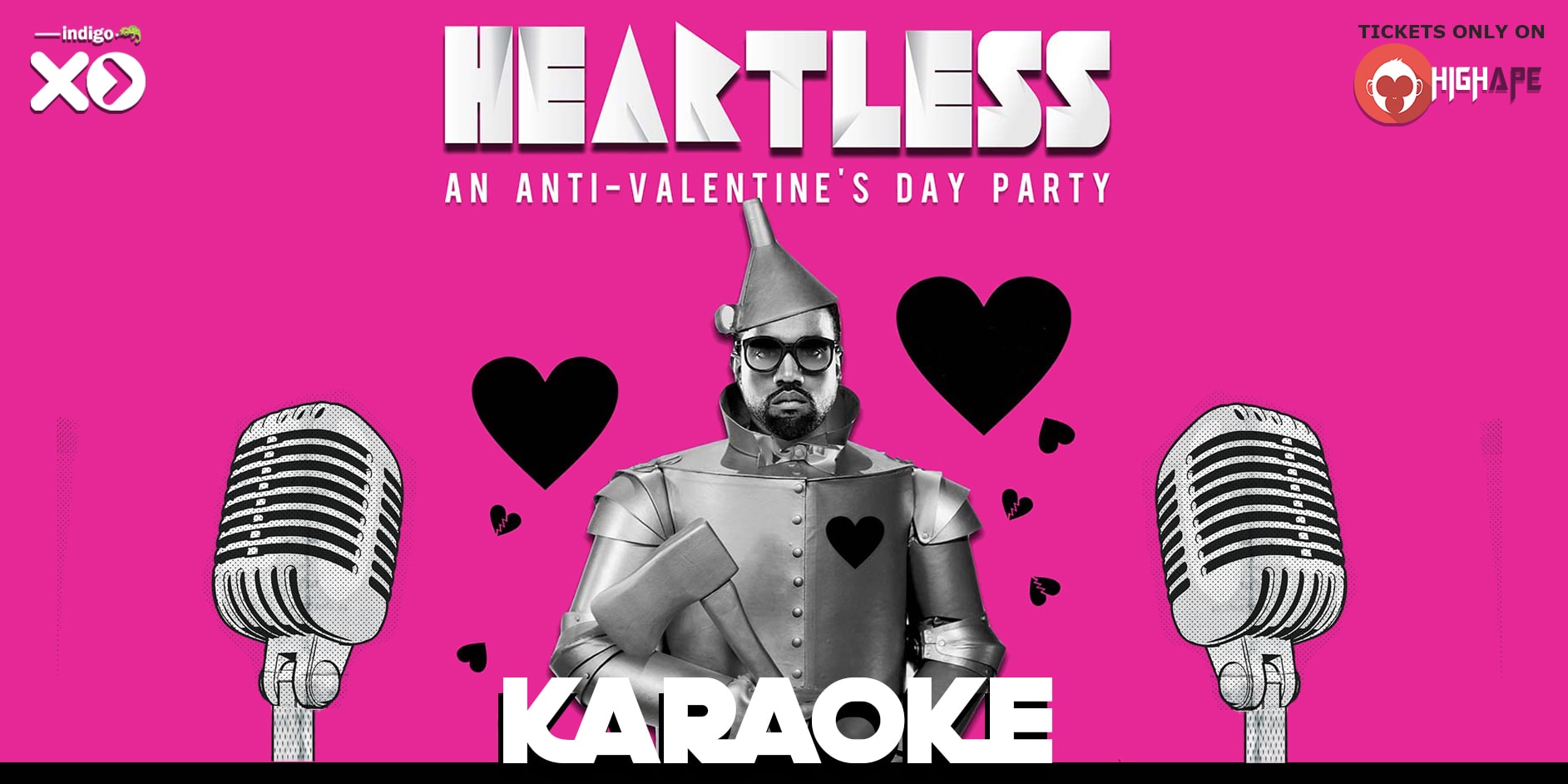 #2) Heartless: Biggest Anti-Valentines Party for Singles – This one came out of the blue! As the name suggest, this is the twisted one. You must have come across many romantic events and parties happening in Bangalore by now. All of them claiming to provide the best experience this Valentine's to you and your partner. But what if you don't have a partner? Does that mean February the 14th holds no importance for you and it is nothing more than just another day? You are wrong. Here is a unique Anti-Valentines Party for the single people. It's your time to meet many new people in one night and sing along to your favorite songs as karaoke with Sheridan Brass and Dawn Fernandes, will be in full swing.
For bookings and more details Click Here
---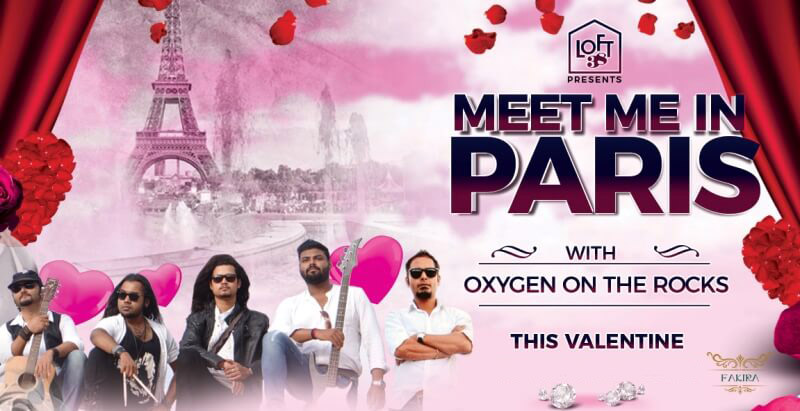 #3) Meet Me In Paris – Valentine's Day Celebration – Loft 38 has planned a night which will light your fire! A night where you can refresh your memories. Meet me in Paris will have a special valentine-themed decor by Fakira. Head to Loft 38, to celebrate a night so musical and so romantic that it will leave you short of words. The special attraction of the event will be live musical band lined up for you - "Oxygen on the rocks", making you sway with their powerful music.
For bookings and more details Click Here
---
#4) Karma Sootra -The Garden of Eden Theme – Valentine's Day Special – While the others in this list were more on the mellow side, this one is more of a swashbuckling romantic night out. BANGALORE, Big News!!! Calling out all the Adams And Eves out there for the HEARTiest theme party happening on Valentine's Day. The Garden of Eden is happening at CLOUDNYN, featuring the RAW Team: DJ Ashtrix, SHANE Viegas, and DJ Maulik. Party at CloudNyn in the best of the decor and theme in the town. Join in and experience a totally new style to celebrate Valentines with your loved ones.
For bookings and more details Click Here
---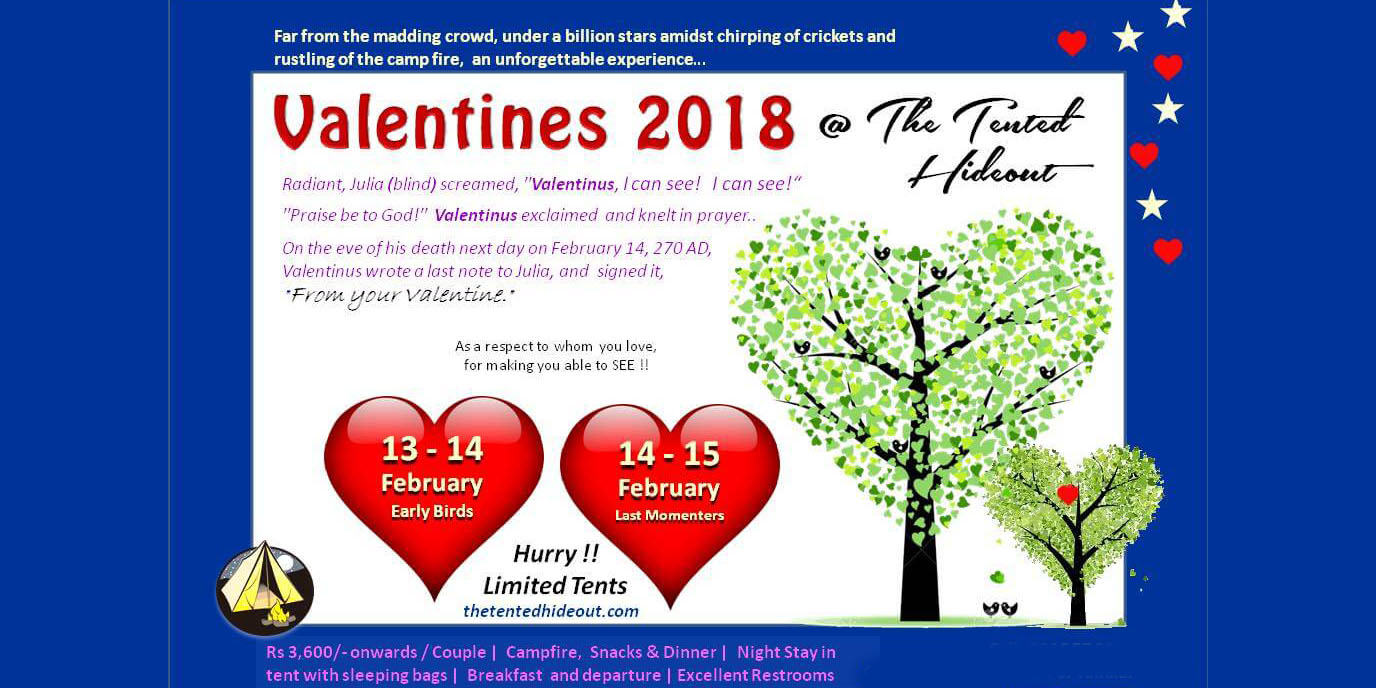 #5) Valentines 2018 - The Tented Hideout - Far from the maddening crowd, under a billion stars amidst chirping of crickets and rustling of the bonfire, an unforgettable experience. Welcome drink, sunset trek, excellent restrooms, bonfire, snacks, dinner, night stay in tents with sleeping bags, morning sunrise trek, breakfast and departure. Limited Tents - Book early. Its about 40 km from Bangalore nested in a gully off the Devrayanadurga Hills and State Forest.
For bookings and more details Click Here