New Year's Eve is just around the corner, and if you still haven't made plans for he year's finale, now's the time! With the many offers and discounts on premium venues, even 5-star hotels are affordable to all and sundry. Besides, you have worked so hard during this long and dreary year, you deserve to Indulge and splurge. Treat yo'self!
1) Under the Stars- The Big Bang 2019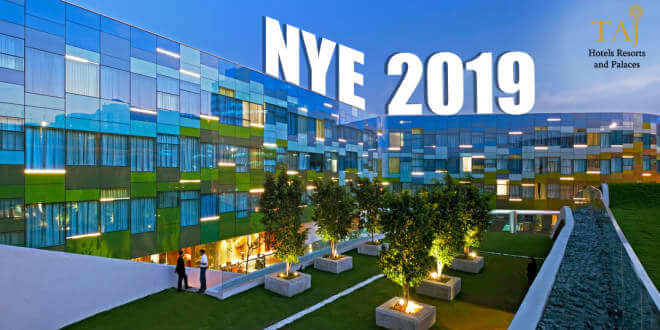 Where: Vivanta by Taj, Whitefield
Why: Open air concert, 4 different party zones in one 5-star venue, international DJ Ruby Phoenix (Australia), Avengers-themed kids zone with nannies, lavish buffet spread with over 200 dishes and premium liquor, stay packages and more!
This one's the best bet for those who love elegance with a dash of madness. Whether or not it is NYE, you will receive nothing but 5-star treatment at the Taj. With a different musical experience in each of the party zones: Open-ai main event area, restaurant, cafe and banquets, a laser and fire show, jugglers, dancers, and over 200 dishes to wolf down, with abundantly flowing premium liquor, Under the Stars- The Big Bang 2019 is extra and magnificent in every way possible!
Click here for passes and more details
---
2) Ticket 2 Bollywood- Grand New Year Celebration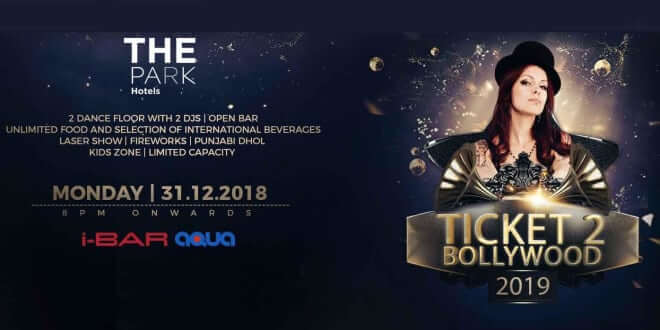 Where: I-bar, The Park, MG Road
Why: Bollywood extravaganza with 2 celebrity DJ and 2 dancefloors, excellent drinks from 2 bars- one indoor and one Alfresco, flair bartenders, confetti shots and more, separate kids zone with nannies and more!
A good old Bollywood night is what keeps you going through the week sometimes, but here's one to make your New Year's Eve glamourous to no end! Take all the space you need for your thumkas, because two celebrity DJs will be spinning the top Bollywood mixes at two separate dancefloors! I-bar has got the best drinks in the city, and we all know it, but the flair bartenders have more than a few tricks up their sleeves to entertain you and keep you high spirited! (pun intended). With the live dhol to keep you pumped up, confetti shots to glam it up, and fireworks and a laser show to top it off, this one is sure to bring the roof down!

Click here for passes and more details
---
3) WTF It's 9Teen New Year's Eve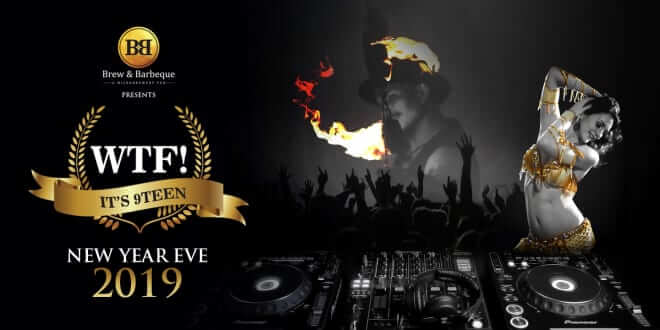 Where: Output, Mahadevpura
Why: Two massive dancefloors, 3 international celebrity DJs, fire jugglers, belly dancers, unlimited food with live barbecue, unlimited drinks, kids entertainment zone and more
If you're on the other side of town, this super happening party is here to save your NYE plans. Output houses two spacious dancefloors- and this time with 3 Internationally celebrated DJs, topnotch quality liquor, live food counters and a variety of live entertainment acts lined up, NYE at Output looks fantastic, indeed!

Click here for passes and more details
---
4) Fashion 2019- Biggest NYE Bash!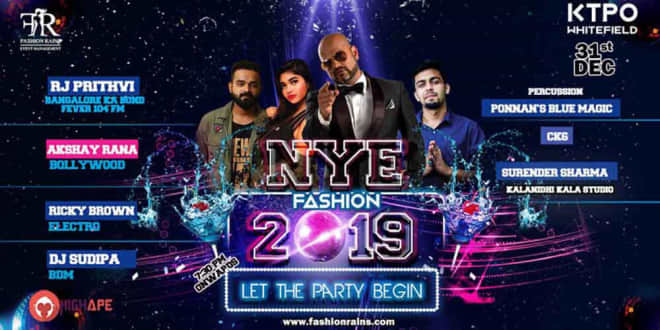 Where: KTPO, Whitefield
Why: Biggest fashion-themed event, premium venue, fashion show, hosted by RJ Prithvi from Fever 104 FM, stay and shuttle packages, 3 massive dancefloors, lavish buffet spread with unlimited drinks, kids zone with nannies, free parking and more!
KTPO Convention Center is a magnificent premium venue, and houses only the biggest of events. With a dance performance by Surendar Sharma (Colors TV, Dancing Star Season 3), CK6 (Winners of Dance Trans India), a Team of 24 people performing Live Shinkarimelam by Ponnan Blue Magic, Kerala and a fashion show, this event has the best entertainment line-up. This gala event will be hosted by Fever 104 FM's RJ Prithvi, and at deck duties are Bengaluru's top DJs. Not to mention, the scrumptious buffet spread and the unlimited premium drinks!
Click here for passes and more details
---
5) The Grand Mystery Carnival 2019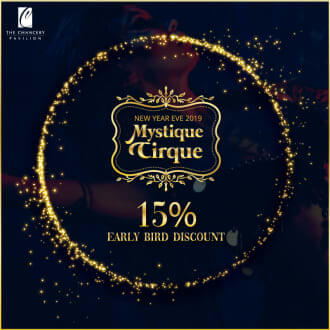 Where: The Chancery Pavilion, Residency Road
Why: Circus- themed party, premium 5-star venue, world-class fire jugglers and belly dancers, access to the poolside, three International DJs: DJ Ana Ra (from Ukraine), DJ Shasha and DJ Njay lavish buffet spread with dishes from all around world, separate kid and infant zone, exclusive bar for the ladies, live dhol and more!
The show must go on, and this NYE, the show is sure to bring the house down! World-class fire jugglers and belly dancers, three internationally celebrated DJs, and a lavish buffet spread with cuisines from across the world and premium drinks, live dhol, a separate zone for kids and infants- you name it, you have it! That's not all, ladies also enjoy an exclusive bar, and all patrons get access to Chancery Pavilion's gorgeous poolside at this mega NYE party!
Click here for passes and more details
---
6) Chak De Patte 2019- Mega Ghaint Punjabi NYE Party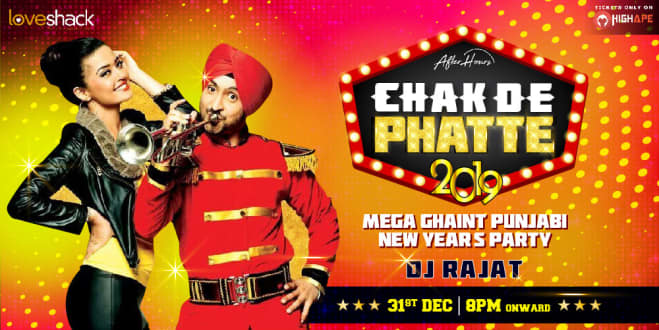 Where: Loveshack, Domlur
Why: Unlimited chicken tikka and Patiala peg, non-stop Punjabi music by Sada DJ Rajat, chic rooftop venue and more!
A Punjabi night can get anyone dancing and excited, it is the cream of Bengaluru's nightlife. This NYE, Loveshack takes the local favourite Punjabi night higher by several notches: unlimited Patiala pegs and chicken tikka, Daler Paaji, Guru Randhawa and everyone in between, all things desi, and from the pind! You know the place to be if you want to start 2019 the Punjabi way!
Click here for passes and more details
---
7) Houseful 2019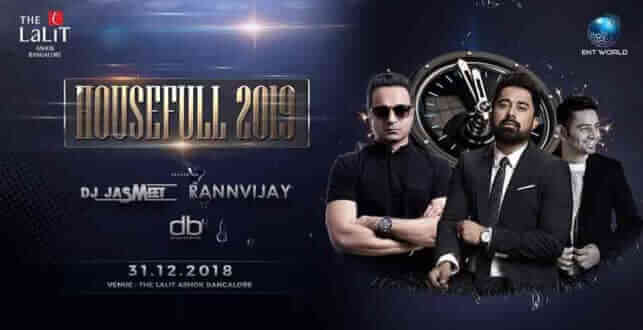 Where: The Lalit Ashok, Sheshadripuram
Why: Open air concert with the radio host DJ Jasmeet, hosted by VJ RannVijay of the MTV fame, unlimited food and drinks from a buffet spread of over 500 dishes, fireworks, LED dancers, a special kids area with nannies, room packages and more!
The Lalit Ashok is popular for its lush, picturesque lawns and the happening events it houses. This NYE, the mother of all gigs is about to hit this beautiful venue. What with DJ Jasmeet's open-air concert in the laws, VJ Rann Vijay hosting the evening and a fantastic Bollywood night with DJ Deep Bhamra! Not to mention are the 500 and odd mouthwatering dishes and the premium liquor to indulge in. Check out the room packages to stay the night and grab a delicious breakfast the next day.
Click here for passes and more details
---
8) Party Year 2019 ft. DJ Olly Esse!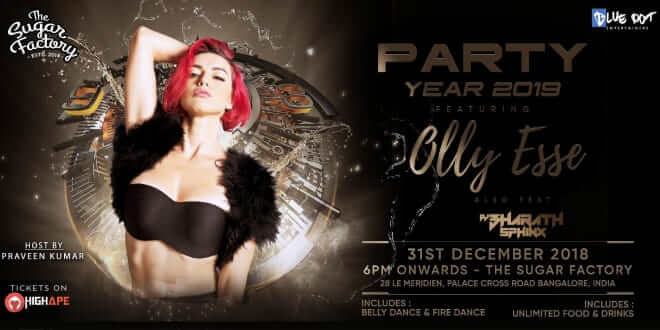 Where: Sugar Factory by Le Meridien, Vasanth Nagar
Why: Non- stop 7 hours party, red carpet welcome, internationally celebrated DJ Olly Esse, lavish buffet spread with unlimited drinks, access to the pool, fire jugglers, belly dancers and more!
Watch the international sensation, DJ Olly Esse live in action at this awesome NYE gig at The Sugar Factory. From a red carpet welcome to a poolside party and unlimited food and drinks, this NYE party is going all out!
Click here for passes and more details
---
9) Las Vegas 2019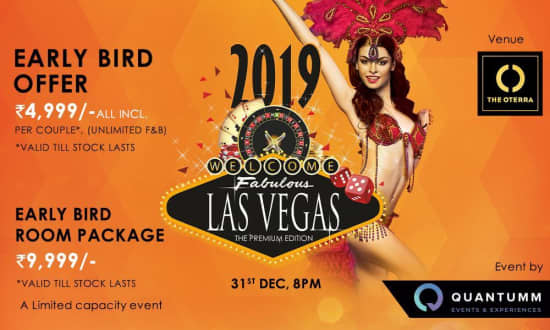 Where: The Ottera Hotel, Electronic City
Why: Casino set up, premium 5-star venue, four separate party zones, fashion show choreographed by Sameer Khan, unlimited food and drinks, exclusive kids zone with nannies, international dancers, jugglers, fireworks and more!
Formerly known as the Crown Plaza, this fine 5-star property housed some of the top NYE parties of all time. This year, the Ottera Hotel brings to you a Vegas fantasy, and it is nothing short of mindblowing! With a casino set up, a fashion show, international dancers and jugglers, a lavish buffet spread and premium drinks, the Sin City is pretty much served to you on a platter!
Click here for passes and more details
---
10) NYE Carnival 2019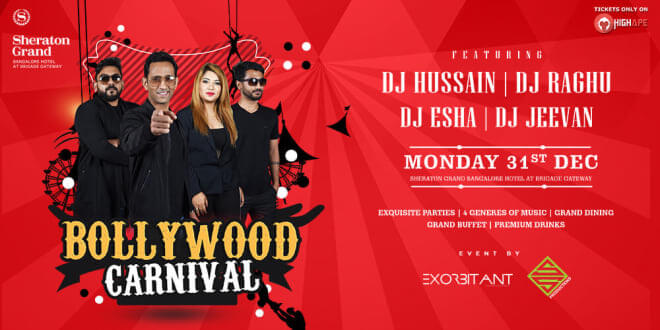 Where: Sheraton Grand, Rajaji Nagar
Why: Two separate party zones, premium 5-star venue, unlimited food and drinks, super talented artist line-up and more!
The Sheraton Grand is an ever-happening party hub. This NYE, they're going all out with two separate parties in each of their party zones: the beautiful Grand ballroom and the chic open-air Persian Terrace. There's also an unlimited buffet full of delicacies from all around the world, and premium drinks.
Click here for passes and more details
Hope this handpicked list of parties helped finalize your plans! Watch this space for the top NYE 2019 events.