Traditionally, Bangalore is not known for its Holi celebrations. But over the past few years, the kind of Holi madness which our city has witnessed is surely going to change how Bangalore and Holi are looked at, when put in sentence together. The diversification in the culture of Bangalore has given birth to some of the most rocking and insane Holi parties which any Holi lover would die to be a part of.
Making your job easier of picking the best Holi party of 2018 will be this post where you will find some of the most thrilling Holi events with splendid highlights happening at some of the most premium venues of the city. Most of the Holi parties will be starting somewhere in the afternoon and will go on till late in the evening, allowing you to play all day long with organic colors and munch on the wide range of food options. Time has come to take your pick –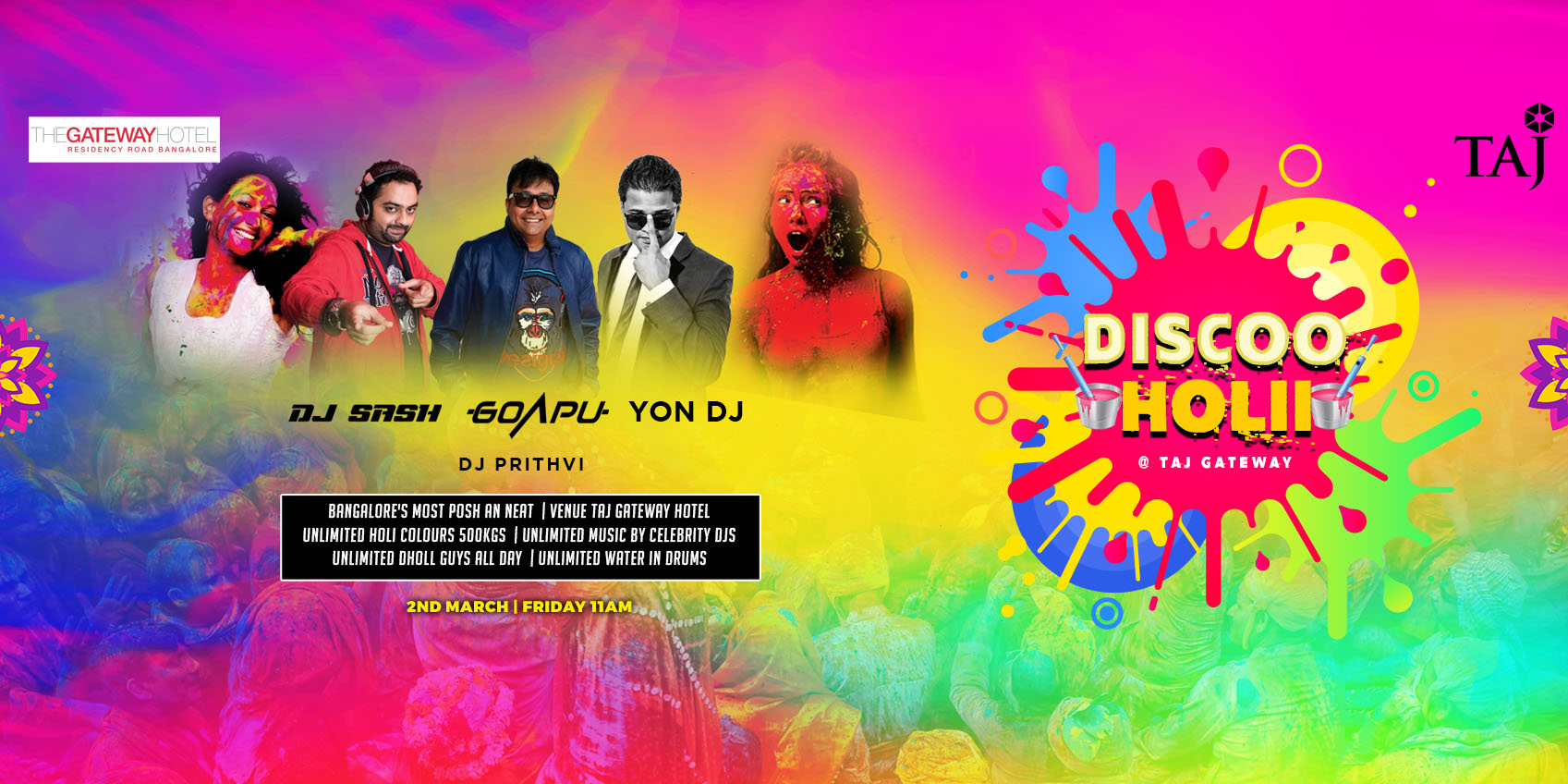 1) Discoo Holi 2018 – Taj Gateway Hotel Garden - Discoo Holi at the lovely 5-star property - Taj Gateway Hotel Garden at Residency Road, Bangalore is going to be one of the finest celebration of Holi in Bangalore with spell bounding music, organic color, beverages and mouth-watering chaat counters from North at Taj Gateway Hotel. Enjoy Live Punjabi Dhol, best of Bollywood, Punjabi and EDM numbers, rain shower, water props guns, balloons and unlimited organic color.

For more details and bookings, Click Here.
---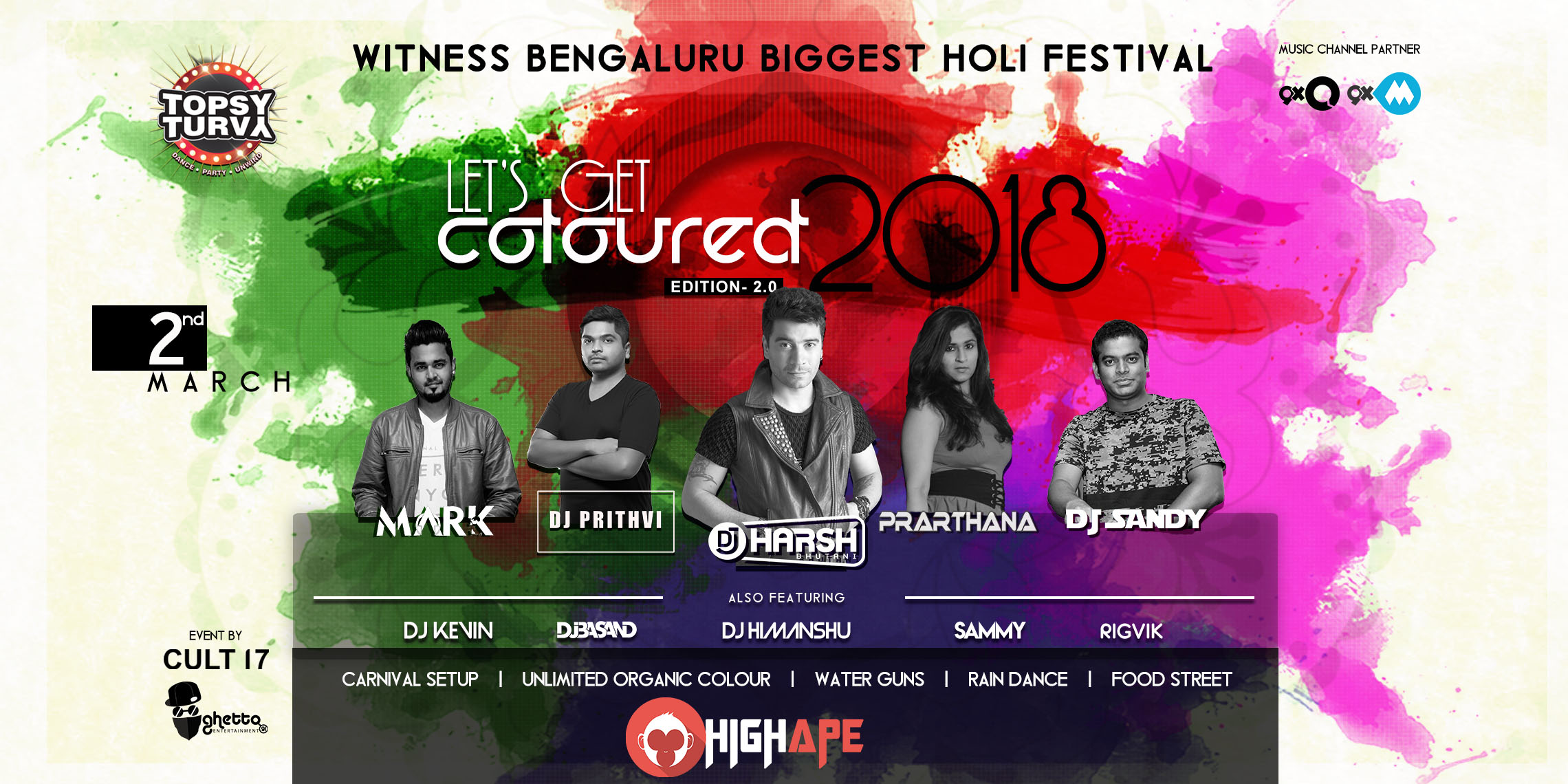 2) Let's Get Colored Ed. 2.0 – Holi Festival Celebration 2018 - Let's get coloured kicks off the second season on 2nd-3rd March 2018. A celebration that gives people an opportunity to enjoy the festival of colors with their family and friends while dancing to the beats of good music played by some of the finest DJ's. Venue Spread across acres of Land with Festival set up and loud, enthusiastic music and 12 of India's finest DJs playing music to cater to every person's diverse needs ranging from Bollywood and Commercial to Hip-Hop and EDM.

For more details and bookings, Click Here.
---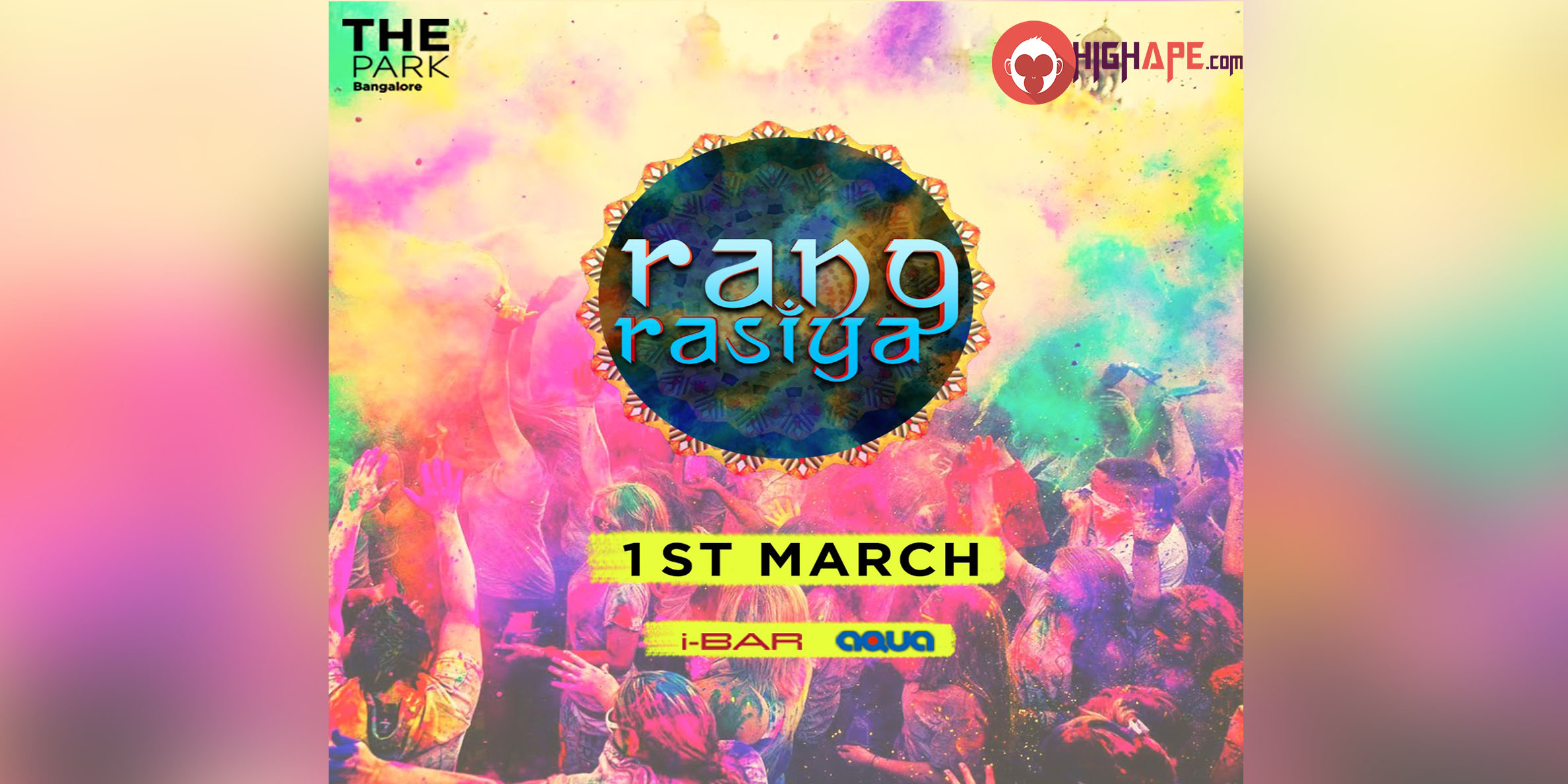 3) Rang Rasiya Holi Party 2018 - RANG RASIYA is an event inspired by Holi, the traditional Indian springtime festival of colors. It's a festival of equality, of good triumphing over evil and of the freedom to celebrate life. Watch all the shades of happiness merge into one color of love on this occasion, and experience the party of a lifetime! Celebrate the Holi madness this year at the lovely, premium 5 star property – The Park. Have a blasting day by the pool or insider the pool, whatever you feel like and get a feel of true insane pool party.

For more details and bookings, Click Here.
---
4) Nkhstra Biggest Holi Festival 2018 – Any list of Holi celebrations in Bangalore is incomplete without having Pebble – The Jungle Lounge in the list. You will be blowing your minds away on a colorful day (and night) in a very natural and serene place at Pebble – the jungle lounge, known for its earthy ambiance. The grand event will be running for a whopping period of 12 hours, starting from 10 AM in the morning. And the colorful day will be featuring as many as 5 DJs, letting you dip into a never-ending the stream of top-notch music.

For more details and bookings, Click Here.
---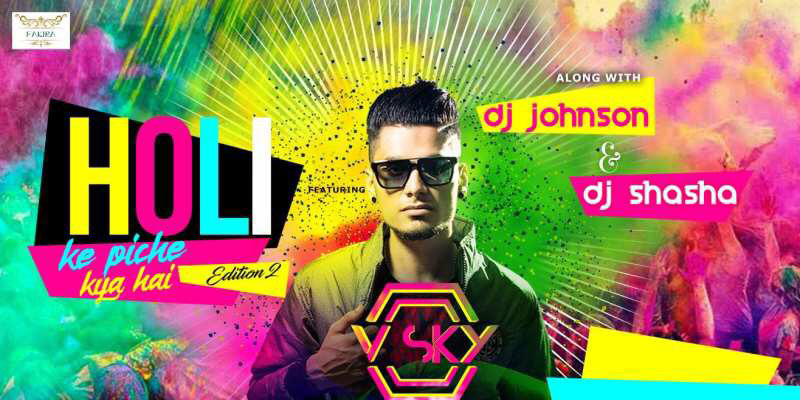 5) Holi Ke Piche Kya Hai – Edition 2 Ft. DJ V-Sky – As exciting as the name of the event sounds, the offerings of the event are equally thrilling. It's time to put your dirty clothes on and make this Festival more Holy. Mangala Kalyana Mantapa Lawn has in store for you the most amazing floor tapping dancing numbers from Hollywood to Bollywood. Get your mind blown as we invite you to the best Holi party in town in full desi style.

For more details and bookings, Click Here.