The nightlife in Bangalore is going absolutely ballistic this weekend. There is so much on the platter that choosing among the options can be excruciatingly hard. To make your job easy, we have hand-picked the best that is happening this weekend around the city.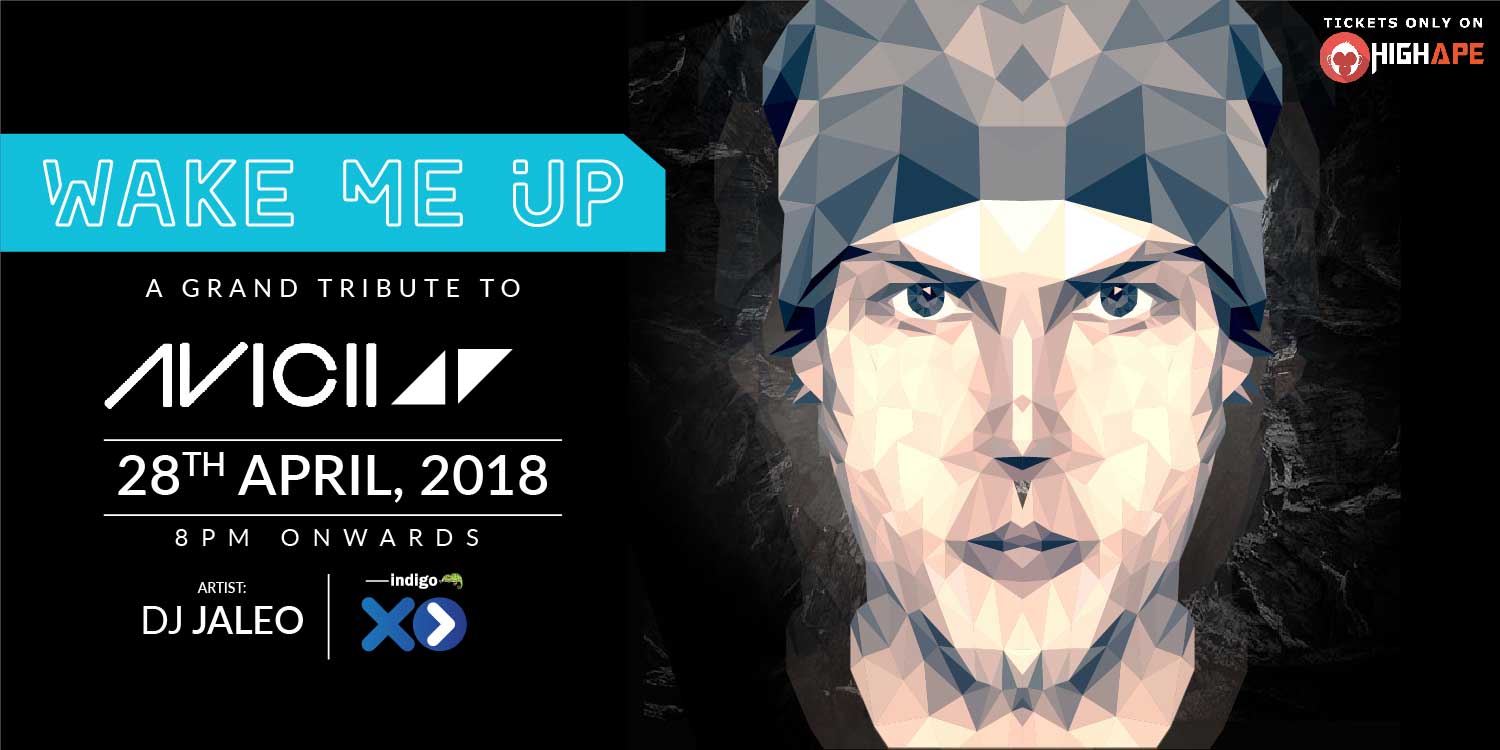 Wake Me Up - A Grand Tribute To Avicii - Indigo XP
Event Link: https://iape.in/2JovT0d
Last few discount passes left.
Get 50% discount on the tickets. Use code: AVIC50
Valid for Today.
---
Quick HighFactors:
♦ Amazing entry offers through the website
♦ A get together for all Avicii fans in Bangalore
♦ Extremely talented DJ Jaleo on the stage with massive LED visuals
♦ Best of Avicii chartbusters to fire up the dance floor
♦ Free AVICII Posters & Goodies to be given away
♦ Gorgeous 2-floor venue - Indigo XP, Koramangala
It's a tough time for Avicii fans all over the world. The boy who became a legend at such a young age has left us all! But the thing is that this talented guy has given us a lot to remember him by. And this what we are going to do this Saturday. A Grand Tribute to Avicii at Indigo XP is going to be the perfect night for all the Avicii fans in Bangalore to get together and enjoy his music in the most magnificent way possible.There is no explanation required for telling how divinely magical the music is going to be this Saturday. It will be Avicii all over the place.
What's Brewing in Harlur Road

Feat.

Rohan Kapoor
Event link: https://iape.in/2Kg1kLn
Quick HighFactors
♦ Mind boggling Saturday
♦ The best of EDM, Techno, and Commercial dance numbers
♦ Opus Club– Gorgeous nightlife destination
♦ DJ Rohan Kapoor– Celebrity artist
♦ Amazing entry offers through the website
Ladies and gentlemen, it's time to put on your best outfits and your cocktail dresses this evening. Premium clubbing is on and its happening with one of the biggest artists in town.
Having shared the stage with some of the biggest names like Afrojack, Hardwell, and Blasterjaxx, celebrity artist - DJ Rohan Kapoor is one of the most well-renowned artists in Bangalore.
And the top-notch high profile night is happening at the lovely Opus Club, HSR Layout.
So get ready for an awesome party and a phenomenal night.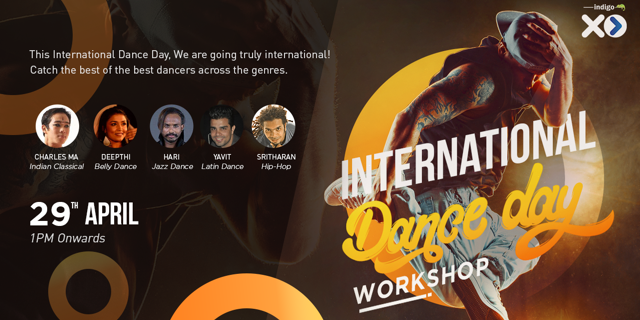 International Dance Day Workshop - Radio Indigo 91.9
This International Dance Day, we are going truly international! Though we shouldn't be needing excuses to dance, we at Indigo XP are giving all the right reasons for dance lovers to put on their dancing shoes all through the day!
For the first time at IndigoXP, we will have a day-long dance festival, complete with workshops on the various genres of dance, ranging from Indian classical to hip-hop, from something more contemporary to even belly dance!
Catch the best of the best dancers across these genres perform, while you get groovy with the best DJs in town and dance the night away to some of the best beats. Celebrate International Dance Day in true XP style this April 29th.

Timing
1.15 pm-2-00 pm - Indian Classical – Charles Ma

2.30 pm-3.15 pm - Belly Dancing – Deepthi

3.45 pm-4.15 pm - Jazz - Hari

4.45 pm-5.15 pm - Latin - Yavit

5.30 pm-6.15 pm - Hip-Hop - Sritharan

6.15 pm to 8 pm - Break and set up

8.00 pm-8.30 pm - Performances by the professionals

8.30 pm onwards - Indigo Dance Party featuring Bollywood DJ (5th floor) and Commercial (6th floor) (8:30 Onwards)
---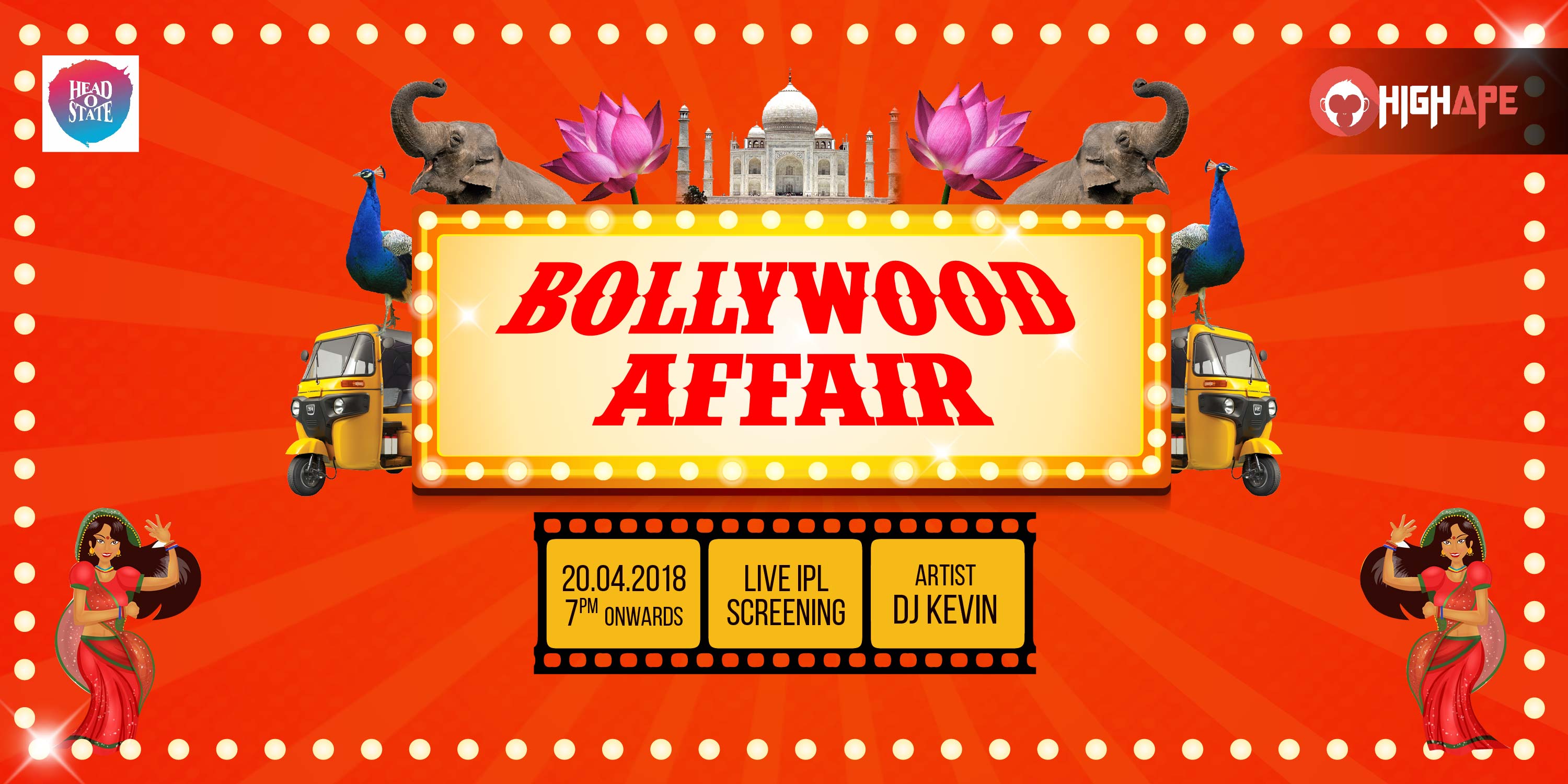 Bollywood Affair Ft DJ Kevin
Special Beer Offer
Offline Price: 550 INR
Pre-Buy Online Offer: 199 INR Only(For 2 beers)
Quick HighFactors:
♦ Amazing entry offers through the website
♦ Special Beer Offer
♦ The extremely talented artist - Dr. Kevin
♦ Best of Bollywood dance numbers all night long
♦ Live IPL match screening
♦ Super happening nightlife destination - Head O State
♦ A great way to kick-start the weekend
Get set to kickstart your weekend with a bang.
Complete madness awaits you this Friday at HeadOState, for a scintillating night full of mindblowing dance numbers all night long.
Thrilling music and absolute madness await you this Friday at Head O State, for a scintillating night full of top dance numbers, by one of the best Bollywood artists in town - Dr. Kevin

---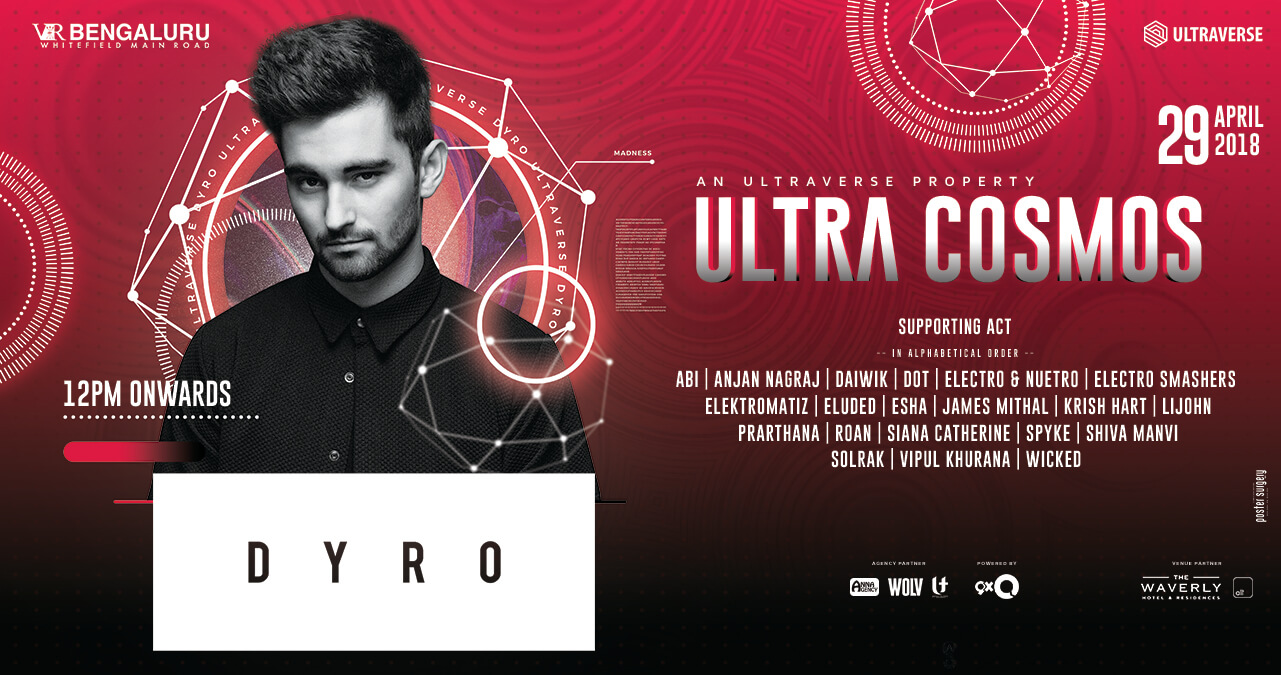 Event Link: https://iape.in/2KbsAL6
Booking closes soon. Last few passes left.
ULTRAVERSE presents Ultra-Cosmos, an open-air festival featuring the world-renowned Dutch DJ and electronic music producer, DYRO. The venue for the event will be VR Bengaluru and it will take place on the 29th of April, 2018.

Artist line-up:
DYRO

Abi

Anjan

Daiwik

DOT

Electro Neutro

Elektromatiz

Electrosmashers

Eluded

Esha

James

Krish Hart

Lij John

Prarthana

Roan

Rohit

Shiva Manvi

Siana Catherine

Solrak

Spyke

Vipul Khurana.

Wicked
Event Highlights:
3 Stages

Multiple Genre

Special Bollywood and House music Stage

Pool Party

Rain Dance

Special VIP Area

Massive Visual Experience

20 Djs

Festival Setup

Live coverage on LED wall