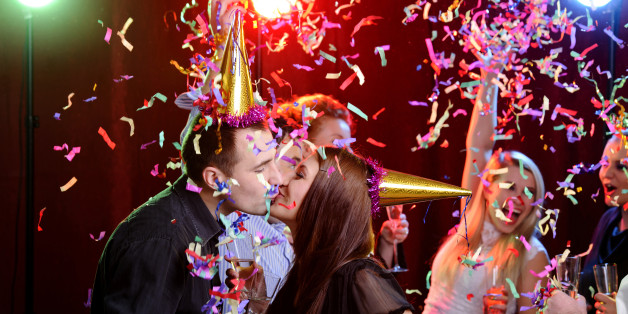 New Year comes with celebration, feast, fun and lot more things. It is a time to celebrate with the one's you love be it your family, friends or someone whom you address as your life partner. In the previous post, you read about the weirdest New Year traditions all around the world. In this post, you will know about yet another strange tradition, which is perhaps the one that is common in the western countries.
Kissing had been a crucial part of western countries. Let's dive into the reasons why a New Year kiss is considered lucky. The tradition of kissing on New Year can be dated back to ancient Romans who gathered on the New Year eve and held lavish feasts also called the Festival of Saturnalia. At the stroke of 12 AM, they would kiss each other.
2.In Medieval England and Germany kissing someone at the stroke of 12 AM on the last day symbolized the act of purification. Before 12 AM people gathered with masquerades, which denoted the evil from the old year. When the bell ringed at 12 AM, people removed the masks that denote removal of evils and kissed which symbolized purification.
3. There is also a popular superstition associated with the tradition. If you don't kiss in the New Year you will be devoid of romantic relationship in the upcoming year.
4. With American TV series and movies becoming popular worldwide, this trend has started in India as well. In the movie Harry met Sally the famous kissing scene in the New Year eve is glorified by many lovers.
5. There can be many superstitions related to kissing on New Year Eve. As far as science is concerned, kissing your significant other releases a stress buster hormone called Oxytocin and Dopamine. This makes you feel good and connected with your significant half.
6. If you are a single and you have no one whom you can call significant half, don't lose hope. There are New Year parties and clubs that can come to your rescue, where you can meet new people and shall be you get lucky.
So this New Year eve keep your mouth freshener nearby, Happy New Year!
What Are You Searching For?
Upcoming Events
Loveshack - No 541-543, 5th Floor, Amarjyoti HBBCS Layout, Koramangala Intermediate Ring Road, Domlur, Krishna Reddy Layout, Amarjyoti Layout, Bengaluru, Karnataka 560070, India, Bengaluru, Karnataka 560070, India

09880973783